While we were sleeping.......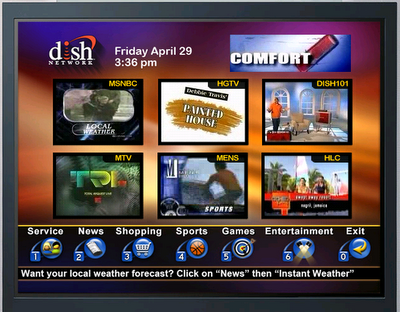 cut and paste http://www.turnermediagroup.com/ itvcampaigns/banners/ into your browser's address bar...
While we were sleeping, Turner Media Group (TMG) and Echostar (Dish Network) were flying with real interactive television campaigns.
Thanks to fellow Qube interactive-TV participant Tracy Swedlow,
here's a current interview she conducted with TMG
. Tracey's been on the cutting edge of iTV for years already. I went to Ohio State for graduate school definitely because Columbus already had Qube interactive television. When I remember that, I realize I have had an interest in interactive television that goes back almost 30 years (now come on, obviously I was reading about Qube "years" before I moved to Columbus, Ohio).
One thing I got out of Tracey's article is that advertisers are reluctant to jump into something new like interactive television. As she quoted TMG's Jodie McAfee, the potential new clients wanted numbers on how other existing campaigns had fared. This reminds me of how the introduction of the wildly popular Sony Walkman was made without market research. Sony's president (I could look that up) just thought it was a good idea. American business schools to the best of my knowledge don't teach "better business management through hunches." Am I wrong?
I have to say that automobile advertising is just about the perfect client for interactive television. Spirit of students past, can I get an "Amen"? Automobile advertising is a great example of "spray and pray." At any given time, let's say there are 1 in 7 audience members with some interest in buying a car within the next 60 days. Once they know what type of vehicle they want (i.e., Hummer or Cooper Mini), they are likely to be interested in more information than they see in a 30 second spot. Would they be willing to watch a 5-minute message about the car? If so, then interactive television can take them there (these infomercials, for example, already might be on the subscriver's hard drive, that is, its DVR. So, when prompted the viewer can request the infomercial just as if she were requesting any program off the DVR. If the DVR is hooked up to a phone line, she can answer questions about her purchasing interest (along with her name, address, etc.) which can later be uploaded to Echostar or TMG. Does this sound plausible? It certainly does to me. Sadly, once again we're at the "proprietary data" block, and we just have to be aware of conference presentations where bits and pieces of information become available. Then there's university research....possibly at a place like, oh, I dunno, maybe the University of Georgia?
---
You may use this content (better still, argue with me!), but please cite my ideas as © 2006, Dr. Bruce Klopfenstein. Find any typos! Don't smite me, let me know!